Exclusive Customer Offer:
25% off Tickets to Highlanders 2020 Home Games*
If you are a Pulse Energy Customer, you can receive 25% off tickets to 2020 Highlanders Super Rugby games in Dunedin.
Terms:
Discount applies to adult and child tickets purchased online via the Ticket Rocket website in the Speights Gold stand. Discount must be used in one transaction per game.

Offer is not applicable if game is sold out.

Excludes any quarters, semis or finals.

Ticket Rocket booking fee may apply.
How to redeem your 25% off
1. Visit www.ticketrocket.co.nz/Highlanders and select the game you wish to attend
2. Under the Pulse Energy Discount Section (on the right hand side of the page).
Enter the Promo Code 25%OFF and your Pulse Energy Account number (10 digit number beginning with a 1 or 9)
3. Press 'Go'
4. A message will display "Accepted" if details are correct
5. Scroll to bottom of page and proceed to buy ticket
6. When selecting your tickets, make sure you select the ticket type that says either Speights Stand Gold - Adult25% or Speights Stand Gold - Child25%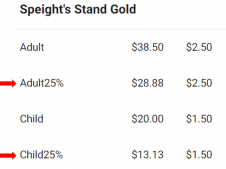 7. If you would like to purchase more than 4 tickets, make sure that you select your additional tickets in the same stand so that they are sitting together
8. Log in to complete your purchase.
Click here to download detailed instructions
*For terms and conditions of the 25% offer click here.