Aarons Granny Smith Apple Scrolls
Ingredients
100g soft butter
2 ¼ c flour
3 tsp baking powder
2 tbsp brown sugar
1 egg
½ c milk
Filling
1 ½ grated apples (Save the other ½ for a healthy snack while you bake)
70g soft butter
¼ c brown sugar
3 tsp cinnamon
2 tsp chia seeds (Optional)
1 small packet of slithered almonds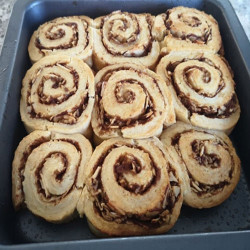 Method
Preheat the oven to 190°C.
In a large bowl, rub the soft butter, flour, baking powder and brown sugar together with your hands. Keep doing this until the mixture looks a bit like grainy sand.
Add the egg and milk to the mixture and start to stir it all together until you have formed a dough (If its a bit on the sticky side, add a little more flour)
Throw some flour over the bench and place your dough ball in the middle. Using a rolling pin or glass, roll out the dough into a rectangle shape. The dough should be about 5mm thick
Next prepare the filling!
Squeeze out any excess moisture from the grated apple, by placing it in a tea towel and squeezing out any juice.
In a bowl mix together the grated apple, soft butter, brown sugar and cinnamon.
Spread the filling mixture over the rolled out dough with a butter knife.
Sprinkle over the almonds and chia seeds
Now for the fun part!
Gently roll up your dough to form one long roll. Then using a knife, cut this into 8 pieces.
In a greased baking dish, place each piece into the dish with the filling side up.
Bake for 12 - 15 mins until they have puffed up!
Serve with a bit of greek yogurt, or if you are extra naughty some white icing (Made with icing sugar, a dash of milk and vanilla essence)
YUM!!