Folau's Falafels
Ingredients
1 can chickpeas, drained
1 large carrot, grated
1 zucchini, grated
½ red onion chopped
3 tsp minced garlic
½ cup coriander leaves (or parsley)
6 tbsp flour
2 tsp cumin
1 tsp salt
½ tsp black pepper
3 tbsp olive oil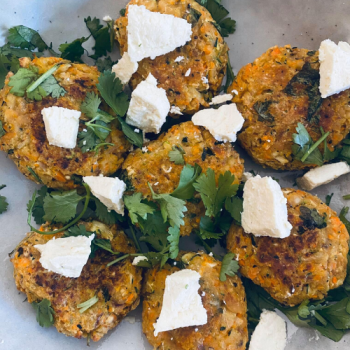 Method
Preheat the oven to 180ºC.
Drain and rinse the chickpeas, removing as much water as possible.
Chuck the chickpeas in a blender and process until a pasty consistency is formed. Scrape the mixture into a bowl and set aside.
Throw the carrot, zucchini, onion, garlic and coriander in a blender and pulse until finely ground. Scrape the ground vegetables into the bowl with the chickpeas.
Stir in the flour, cumin, salt and pepper. Mix until combined.
Use the mixture to make 8 to 10 small, round patties and place 'em on a baking sheet
In an ovenproof frying pan, heat a dash of olive oil over medium heat. Place the patties in the pan and fry covered for 3 minutes. Flip 'em over and fry for another 3 minutes.
Pop the pan in the oven and bake the patties for 10 minutes. Remove the patties from the oven and let them cool for at least 15 minutes to firm up.
We love this served in pita bread with salad and tzatziki!