Daniel Lienert Brownies
Ingredients
100 g butter

1 cup sugar

2 eggs

1 splash vanilla essence/extract

¾ cup flour

1 tsp baking powder

½ cup cocoa powder

1 pinch salt

1 ½ cups chocolate drops

Handful of raspberries (optional)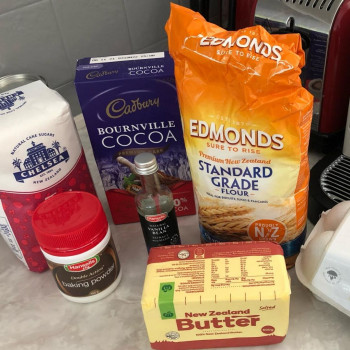 Method
Preheat the oven to 180°C and grease or line a pan or brownie tin.

In a medium bowl, mix melted butter and sugar until combined.

Add in the eggs and beat one at a time, then add the vanilla extract and mix.

Sift in the flour, baking powder, cocoa, chocolate drops and a pinch of salt. Mix until it's all combined

Pour the batter into your greased pan and scatter optional raspberries on top. Place the brownie in the oven for 20-25 minutes or 15 minutes for a really gooey brownie.

Let it cool off for 5-10 minutes and enjoy with a scoop of ice cream or fresh Greek yoghurt!