Ash Dixon's Dixie Chick
Ingredients
500g chicken thighs or breasts

1 onion

1 tbsp garlic

1 tbsp olive oil

Knob of butter

250 g button mushrooms, sliced

4 rashers rindless bacon, diced (optional)

420g can cream of mushroom soup

⅓ cup light thickened cream

2 cups spinach

2 tbsp lemon thyme leaves (optional)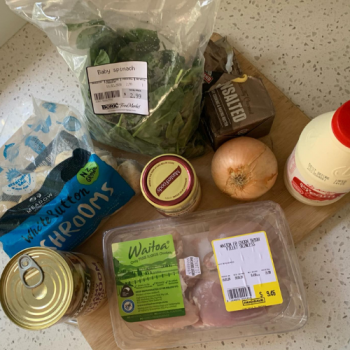 Method
Preheat the oven to 200ºC.

Spread the chicken out in a single layer in a large ovenproof dish. Slap on some salt and pepper.

Heat the oil and butter in a large frying pan over medium heat until it's sizzling. Add the onion and garlic and cook until browned. Toss in the mushrooms and optional bacon, then cook stirring for 3-4 minutes or until tender.

Add soup and cream and stir until well combined. Add the spinach. Bring to boil then remove from heat.

Stir in the thyme then pour it over the chicken.

Bake uncovered for 30 minutes or until it's cooked through.

Serve it up with rice and whatever vegetables you have on hand! We're big fans of broccoli and green beans.