Ethan de Groot's Roast Beetroot Salad
This is a nice healthy salad using only a few ingredients!
Ingredients
4 medium beetroots, peeled and diced into wedges

2 tbsp olive oil

1 tbsp balsamic vinegar

1 bag baby spinach

Juice of 1 Lemon (optional)

½ cup pine nuts or almonds

120 g feta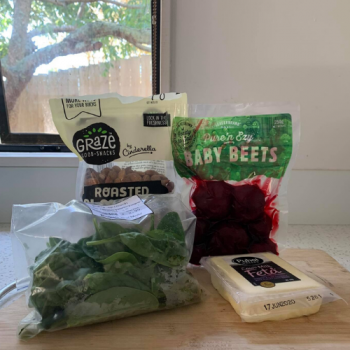 Method
Preheat the oven to 180ºC fan bake.

Grab a roasting dish, line it with baking paper and pop the beetroot in. Add the balsamic vinegar, salt, pepper and olive oil and mix through.

Roast the beetroot for 20-25 minutes until it's nice and tender. Remove from the oven and allow the beetroot to cool in the roasting dish.

In a large mixing bowl, throw in the spinach, beetroot, nuts, feta and lemon juice. Mix it all together.

Serve!