Gatland's Choc Nut Gateau
Ingredients
1 ¾ cup flour

½ cup cocoa

2 tsp baking powder

1 cup white sugar

125 g soft butter

2 eggs

1 ½ cups milk

2 tsp baking soda

1 tsp vanilla extract
Peanut Butter Filling
25g butter, softened

1/2 cup smooth peanut butter

1/2 cup icing sugar, sifted
1 tsp vanilla extract
2 Tbsp milk
Chocolate icing ingredients
50g butter, softened

2 Tbsp water

1 tsp vanilla extract

1 Tbsp cocoa powder

1 1/2 cups icing sugar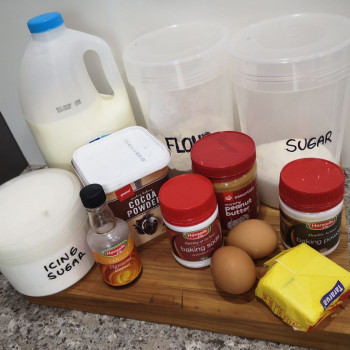 Method
Preheat the oven to 180°C.

Mix together the flour, cocoa, baking powder and sugar.

Throw the butter in a separate bowl and blast it in the microwave for 1 minute or until melted.

In another bowl, whisk the eggs and stir in the milk, baking soda and vanilla. Add both the butter and the milk mix to the dry ingredients and beat on medium for 1 minute.

Add the mixture to a medium baking tin and put it in the oven. In a 20 cm round tin, it'll take about 45-55 minutes to cook.

While the cake is cooking, make your peanut butter filling. Simply chuck all of the ingredients into a bowl and beat with an electric beater until all ingredients are combined.

After 45min, check if the cake is cooked by poking a knife or a long skewer into the centre. If cooked remove it from the oven and allow it to cool completely.

Once the cake is cool, grab a sharp knife and cut it in half vertically. Spread a thick layer of the peanut butter icing on one half of the cake. Add the top layer back on.

To prepare the chocolate icing, beat all the ingredients in a bowl except for the water. Add the water slowly as you beat to get a good consistency.

Apply the icing to the top of the cake and spread evenly. Add a few chopped nuts or sprinkles if you like!

Put the cake in the fridge for 30 minutes to allow the icing to set. Enjoy!