Josh Ionae's Cannelloni
Ingredients
1 medium onion, peeled and finely chopped

1 tsp crushed garlic

250 g bag of spinach leaves, chopped

250 g tub cottage cheese

1 tbsp chopped fresh basil

1 tbsp mixed herbs

1 tbsp tomato paste

½ cup grated cheese or parmesan

2 cans diced tomatoes

⅓ -½ cup water

125 g packet dried cannelloni tubes

¼ cup fresh breadcrumbs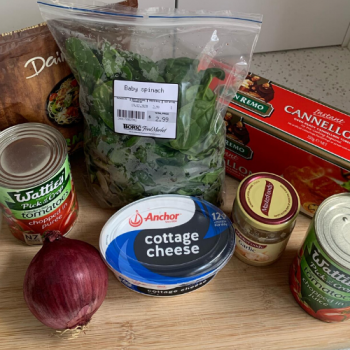 Method
Heat a dash of oil in a frying pan and stir in the spinach until it wilts. Set aside to cool.

Top up the oil in the frying pan (if needed) and cook the onion and garlic until soft.

Throw in the diced tomatoes and water and simmer for 5 minutes. Pour half into the base of a lasagne-style dish.

In a separate bowl, stir the cottage cheese, basil, mixed herbs, tomato paste and half the cheese with the cooked spinach. Season with salt and pepper.

Fill the cannelloni shells with the cottage cheese filling and place the cannelloni on top of the soup. Pour over the remaining tomato soup mixture. Mix the remaining cheese with the fresh breadcrumbs and sprinkle over the soup.

Bake at 190°C for 25-30 minutes until the cannelloni is tender.