Kayne Hammington's Caramilk Lamingtons
Makes 8-12 servings
Ingredients
1 block Cadbury Caramilk Chocolate, chopped

2 tbsp milk

½ cup cream

2 tbsp coconut oil or butter

1 ½ cups icing sugar

2 cups shredded coconut

500 g premade double layer sponge cake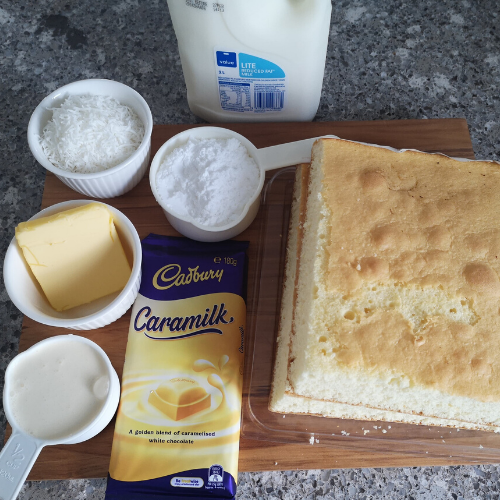 Method
Place the chocolate, cream, milk and coconut oil/butter in a saucepan. Stir until all the ingredients combine and the chocolate is melted. Stir continuously to avoid burning.

In a separate bowl, add the icing sugar. Create a well in the middle of the icing sugar and pour in the Caramilk mixture. Stir until the mixture has a nice, smooth consistency.

Place one layer of the sponge cake on a chopping board. Using a butter knife, spread the chocolate Caramilk mixture on top in a thick layer.

Place the second layer of the sponge cake on top to make a bit of a sponge sandwich. Put it in the fridge for 15 minutes.

Add half of the shredded coconut to a separate plate.

Remove the sponge from the fridge and cut it into 8-12 squares.

Using a fork (or your hands) cover the outside of each sponge square with the leftover caramilk mixture. TIP: It's a good idea to leave the bottom uncoated, otherwise it might stick to the plate.

Roll the Caramilk-coated sponges carefully in the coconut. Add more shredded coconut to the plate as you go.
Move the completed sponges to a separate plate and refrigerate for 2 hours.