Sione Misoloi Miso Ramen
Some of these hard-to-find ingredients can be purchased at Japan Mart, New World or your local Asian supermarket.
Ingredients
Sesame oil

2 cloves garlic, minced

1-inch ginger, minced

1 shallot, minced

300 g pork mince

1 tbsp spicy (or mild) bean paste

2 ½ tbsp red miso paste

Grounded white sesame seed

2 tsp sugar

2 tbsp sake (Japanese rice wine)

1 tbsp Soy sauce

1 tsp mirin

4 cups chicken stock

1 packet of ramen noodles

4 eggs

Spring onion, sliced

Shredded seaweed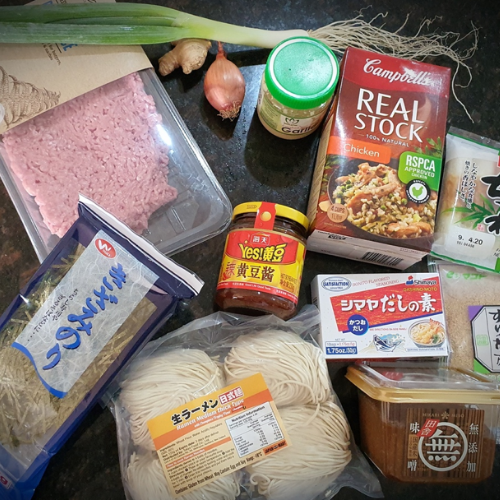 Method
Pour a good dollop of sesame oil into a pan and toss in the minced garlic, ginger and shallot. Stir fry until fragrant, then add the pork mince.

Once the pork mince is cooked, stir in the spicy (or mild) bean paste, red miso paste, grounded white sesame seeds and sugar.

Add the sake or, for a non-alcoholic version, substitute the sake with the soy sauce and mirin.

Add the chicken stock, a pinch of white pepper and salt to taste.

Place eggs in a medium saucepan, pour cool water over the eggs until they're fully submerged and boil for 4-5 minutes, depending on personal preference. Set aside.

In another saucepan, bring water to boil, add the ramen noodles and cook for 1-2 minutes, depending on personal preference.

Drain the water and place noodles in a bowl.

Pour soup into the bowl with noodles and top with sliced spring onion and shredded seaweed. Voila!